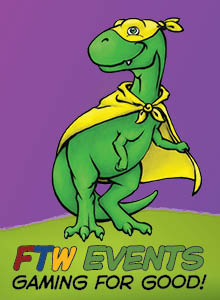 3rd Annual Night of Board Gaming for Good on Top of the World!
Columbia Tower Club
701 5th Ave STE 7500, Seattle, WA, 98104
Friday, March 02, 2018 6:00 pm until 1:00 am
Organized by: FTW Events (Contact)
Event Description
FTW Events and Calliope Games are proud to present the Third Annual Night of Board Gaming for Good on Top of the World, benefiting The Imagine Guild for Seattle Children's Hospital! Taking place on the top floor of Seattle's iconic Columbia Tower, the highest publicly accessible floor west of the Mississippi River, it's an event you won't want to miss.
It all happens on Friday, March 2nd. Join us for an evening with the gaming community celebrating something we love while partaking in amazing food, enjoying Top of the World views, and giving generously to a good cause. Our beneficiary, the Imagine Guild, supports the Seattle Children's Hospital, Uncompensated Care program. This program eases the financial burden on parents, allowing them to focus on the most important thing - their child's health. With today's unstable healthcare climate, the vulnerable families and kids supported by this program need our assistance more than ever.
When: Friday, March 2nd, 6:00 PM - 1:00 AM
This is Friday night during Emerald City ComiCon weekend, though you do not need to attend ECCC to join us.
Where: Seattle's Columbia Tower Club, 701 5th Avenue, 76th Floor
An easy 8 block walk or $5 Uber/Lyft ride from the Washington State Convention Center.
Why: Because you love to game. Because you love helping a good cause. Because the Columbia Tower boasts the highest (publicly accessible) floor west of the Mississippi River. Because we will have thousands of dollars in prizes, all generously donated by members of the gaming community. Because you LOVE TO GAME!
General Admission ~ $69+, and NO SERVICE FEES!
Includes a buffet dinner and all the games you can play! Prices of general admission tickets will increase as the date draws near, so get them soon! Also, ALL FEES ARE INCLUDED with our ticket prices this year! What you see is what you pay.
VIP ~ $210+
VIP dinner starts at 5:30 so as to not cut into your gaming time. You'll be served a plated 3-course meal with our gaming celebrity panel along with other VIPS in a private dining and gaming room overlooking the city. The VIP package also includes a SWAG bag, 2 drink tickets, and a $25 gift certificate to our pop-up game store run by Card Kingdom.
But Wait, There's More
Win from thousands of dollars in gaming prizes!
Have a great time meeting and playing with other gamers
Meet and pick through the brains of game designers while playing the games they've created!
Play from our impressive list of games in our lending library, or bring your own!
Purchase new games with 2 vouchers for $10 off games at our pop-up store run by Card Kingdom, Seattle's biggest Friendly Local Game Store! (Conditions apply)
COSPLAY IS ENCOURAGED! Wear your costume and win prizes for best cosplay. It's ComiCon weekend, after all!
Parking is available at the Columbia Tower for $10, but please only utilize this if you plan to leave before midnight. After midnight, the "day" resets in the garage's computers, and you will be charged for an entire extra day ON TOP OF the charges for the event day. Street parking is free after 8:00 PM.
All proceeds from this event will be donated to The Imagine Guild in support of Seattle Children's Hospital. The Mission Statement of the Imagine Guild is bringing together the motorcycle community in support of Children's Hospital, and their mission is to eliminate childhood illness and injury. If you want to talk motorcycles, these are the folks to chat up!
We can't wait to see you!
Contact us with any questions and
Follow us on Facebook to stay updated with what we're up to!
---
FTW Events is a federal 501(c)(3) organization that hosts charity gaming events in the Seattle area.